My first meeting with Nelson Mandela, whose centenary we celebrate on July 18, took place in 1993 at his office at the ANC/African National Congress in Johannesburg. I had come to present to him a training program coordinated by the University of Rouen in France, which he welcomed with interest. It was a pairing project between several European universities grouped together in a program called Erasmus and their equivalents in the new South Africa that I had presented to him. This specially designed economic and cultural development program was called: SAFIR/ Southern African Institute for International Relations. His presence, his simplicity and his warm welcome, his large size and his firm handshake impressed me. It was indeed surprising to meet a character of this stature whose dignity hid the hardships of a 27-year detention spent mainly on Robben Island, a small island located near Cape Town and compared to the infamous Alcatraz of San Francisco in the USA.
Having asked him if he had thought of escaping, after reflection, he replied that in the end, he would probably have been shot. Charismatic, erudite, endowed with a natural authority and aware of his intellectual value, he nevertheless remained simple. Also, after saying a few words to me about Joan of Arc, talking about the South African "boys" soldiers who fell during the Normandy landings in 1944, he broached the subject of Martinique, where I am from, Aimé Cesaire and Frantz Fanon. He felt that in addition, other historical Afro-descendants should be considered in a revival of South Africa.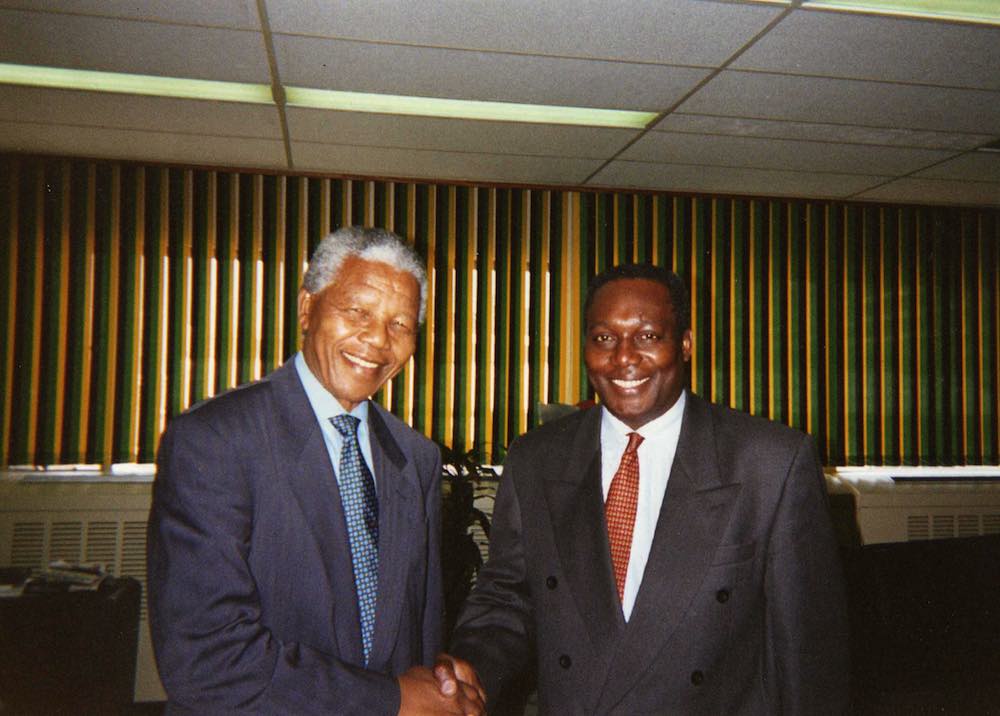 This augured both the creation of the 6th region by the current African Union, the denomination of all 6 regions united by the generic term Africa Mundus used by civil society, as well as the proclamation by the UN of the International Decade for People of African Descent 2015-2024.
As a sign of fate, my interest in Africa dates from my meeting in Brussels in the 1980s with the late Ambassador Raymond Chasle, a Mauritian, who was at that time Secretary General of the Foundation for ACP-EEC cultural cooperation. Having become a member of the foundation, I was invited in December 1989 to the signing ceremony of the Lomé IV Convention. ACP-EEC.
On this occasion, it was my first contact with South Africans campaigning for the release of Nelson Mandela. It was a traveling theater group called Sarafina, who came to raise awareness among the leaders of the Commission of the European Communities present at the convention. For the first time, outside her country, Sarafina represented the bloody repression of Soweto on June 16, 1976, which was to awaken consciences of all origins throughout the world. It all started with a banal demonstration of students protesting against an administrative decision and the obligation to speak Afrikaans at school. South African police tanks did not hesitate to fire on schoolchildren in this township. Without violence, Sarafina used non-governmental diplomacy to denounce apartheid. Actions of civil disobedience will have generated so-called lost generations.
Once elected, Nelson Mandela will launch by all means of communication, a program entitled RDP / Reconstruction & Development, will promote diversity, tolerance and respect for ethnic, cultural and linguistic differences.
As president of the ANC, supported in particular by the Secretary General Cyril Ramaphosa, he had coordinated a major program entitled Ready to Govern/prets to govern providing, among other things, the establishment of Affirmative action otherwise called positive discrimination. Bodies or organizations such as the Convention for a New Democratic South Africa /CODESA, or the Truth & Reconciliation Commission/TRC: Truth & Reconciliation, a commission chaired by Archbishop and Nobel Peace Prize winner Desmond Tutu, have not not bankrupt. The purpose of the TRC was to reconcile the country by collecting the grievances of the victims of apartheid and by confronting them with the confessions of the culprits. Reparations were sometimes obtained.
In Kempton Park near Johannesburg airport, where the preparatory meetings for the new Constitution were held, Nelson Mandela and the current President of South Africa, Frederik de Klerk, rubbed shoulders with the other leaders such as Chief Mangosuthu Buthelezi of the Inkata party and also Prime Minister of the KwaZulu Autonomous Bantustan from 1976 to 1994.
It was for me, who attended these meetings as an observer, a very strong symbol.
Skill and charisma enabled the future president of the rainbow nation, as he liked to say when speaking of his country, to federate the most diverse components with the exception of the most radical wing of a far-right paramilitary party: The Afrikaner Weerstandsbeweging / AWB symbolized and personified at the same time by its standard-bearer Eugène Terre' Blanche who had refused to participate. The Nobel Peace Prize that Nelson Mandela received in 1993 jointly with Frédérik de Klerk testifies to this.
In 1994, Nelson, Rolihlahla Mandela, whose tribal and colloquial clan name is ''Madiba'' was elected as the first black president of South Africa. A fine strategist and of high moral value to better serve peace, above all a man of duty, Nelson Mandela worked for the liberation of a people who had been humiliated and subjugated for too long. Convinced of the potential of his country and of the necessary cooperation between the different African states, he contributed to the growing development of the Southern African Development Community / SADC.
In fact, it was in Port-Louis that I had the privilege of attending the last annual meeting of SADC Heads of State and Government, which he chaired in September 1998. of the Mauritian authorities was most remarkable with a very high sense of hospitality, thereby facilitating the work.
Unlike some heads of state on the African continent, such as the one who has been in office for 47 years thanks to the support of certain Western governments, as a convinced democrat, Mandela did not cling to power, nor did he took advantage of ''ill-gotten gains''. Thus we can affirm that Nelson Mandela is a father of NegroEvolution before the letter, having known how to show supremacists of all stripes, the limits of their convictions.
*Emmanuel_Argo, is a historical Afro descendant, a great witness of the transformation of South Africa, he was a contributor to the ANC, Consultant for the Ministry of Education and Training of Nelson Mandela's government to the European Commission then; former SADC Special Adviser. Author of the concept of La NégroÉvolution, he is a member of the Africa Mundus network www.africamundus.org
Source: www.lemauricien.com/